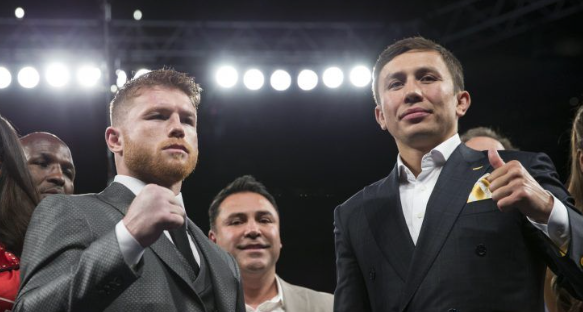 Why Canelo Alvarez, Golden Boy finally agreed to Triple-G fight
LAS VEGAS – The roars of 20,000-plus shook T-Mobile Arena on Saturday, and from his seat in the lower bowl Gennady Golovkin let all of it wash over him. For all of Golovkin's accomplishments — the championship fights, the headlined pay per views, the millions in career earnings — he had never had this. More than a decade into his professional career, a super fight had eluded him.
No longer. An anticipated showdown between Golovkin and Saul 'Canelo' Alvarez was made official on Saturday, announced with a WWE-style production designed to make the audience forget the $70 Golden Boy just swiped from them. Alvarez-Julio Cesar Chavez Jr. was unwatchable, a 36-minute sparring session that took the momentum boxing built with Anthony Joshua's spectacular knockout win over Wladimir Klitschko last month and ground it to a halt. Yet the sight of Golovkin and Alvarez in the ring together was enough to ramp it back up again.
Golovkin wanted this. Asked for this. Craved this. Canelo was anointed from an early age. Golovkin? He had to earn it. His first promoter, Universum, ignored him. U.S. promoters showed little interest in him. Opponents ran from him. Had HBO not invested in Golovkin, anonymity might have defined him.
That isn't meant to slight Canelo. His good looks, Mexican heritage and raw power gave him early advantages. His fearlessness and success in the ring let him keep them. He fought Austin Trout when he didn't need to and Erislandy Lara when his promoter begged him not to. He didn't duck Golovkin last year. He doesn't duck anyone.
READ FULL ARTICLE: https://sports.yahoo.com/news/canelo-alvarez-golden-boy-finally-agreed-triple-g-fight-165623381.html