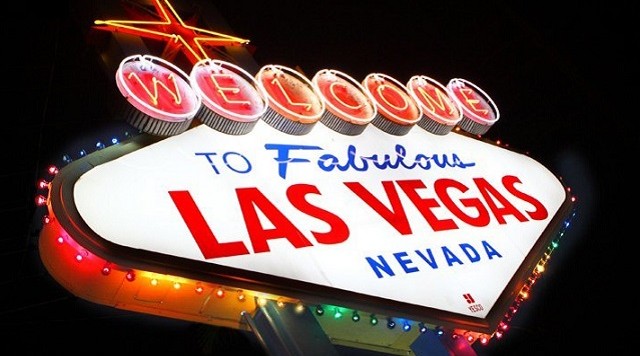 8 Crazy Things That Only Happen In Vegas
Camille D'Elia on OFF THE GRID
Aug 30, 2016 10:47am
My first trip to Las Vegas only lasted 24 hours. I didn't think that was enough time to get a taste of Sin City, but boy was I wrong.
In one day, I saw the Strip, skydived with badass paratroopers from the British Special Forces, partied at SLS Hotel with a Snapchat star, dined at a five-star restaurant and — of course — visited a few casinos.
As a transplant New Yorker born and bred in Jersey, I thought I had experienced the best of the best when it came to parties: Whether it was partying with mermaids at the shore or hitting up a swanky rooftop bar overlooking the NYC skyline, I was convinced I had seen it all.
But in the 106-degree July heat, Vegas washed over me like a surreal fever dream that was impossible to make sense of.
And I never wanted it to end.
When it comes to Vegas, though, I know my experience was just the tip of the iceberg. And I have plenty on my to-do list for the next time I want to rub elbows with Lady Luck.
Here's a list of eight crazy things you can ONLY do when you visit Sin City.
Transform into a celebrity for the night.
From having your own private party in your SLS Hotel room to splurging on bottle service, you're always a VIP in Vegas. Get a private booth to keep the randoms from killing your vibe, ball out in a suite with your girlfriends or go to work playing bartender by mixing jalapeno-lime margaritas with SoBe Elixir En Fuego.
Savage move, I know.
Drive an Italian sports car because you can.
Ditch your sedan this time and drive an exotic car on a test track after eating at the best restaurant in town. This is the one place you can (pretend to) live beyond your means — at least for a night.
Be a world traveler without leaving the Nevada desert.
Try to solve the Sphinx's riddle while waving to Lady Liberty, then check out the Eiffel Tower and Arc de Triomphe. Or maybe cool off with a gondola ride. No, that's not a mirage — these landmarks really have been recreated for you in Vegas.
After you've taken in the sights, relax at the SLS Hotel pool with a drink in your hand. Be as exotic as the traveling you've done and grab a SoBe Elixir Midnight Mojito, infused with blackberry and mint flavors.
Throw caution to the wind and spontaneously get married.
Let's say you've been dating bae for a few months, and you want him to put a ring on it. (True love knows no bounds, after all.) Maybe you have your cab driver accidentally drop the two of you off at one of Vegas's dozens of wedding chapels. Whether you met years ago in college or 20 minutes ago while playing roulette, this is the town where you can make it happen — and seal your love in wedded bliss.
Stay out 'til the sun comes up.
From 24-hour casinos to all-night clubs, Vegas isn't messing around. Sin City is basically like that older friend you had growing up who was way too savvy at an early age. You know, the one who visited you in college but ditched you at a party, then showed up at your apartment door at 6 am with a random guy and an arrangement of funeral flowers she received as a gift from her cab driver.
It doesn't make sense, but you also don't hate it — and you certainly aren't going to forget it.
Make best friends with strangers.
If you think waiting in a long line to get into a club bonds you, then consider what being the witness to someone's shotgun wedding officiated by Elvis does to you.
That's a bond for life right there.
Meet an actual showgirl.
Yes, I may have watched that movie at way too young of an age (effectively changing my view of the world forever), but for those who aren't emotionally scarred, now is the chance to meet and definitely snap a picture with a real life showgirl. They dance, they smile, they high-kick — they do it all!
READ MORE: http://elitedaily.com/life/8-crazy-things-happen-vegas/1543503/