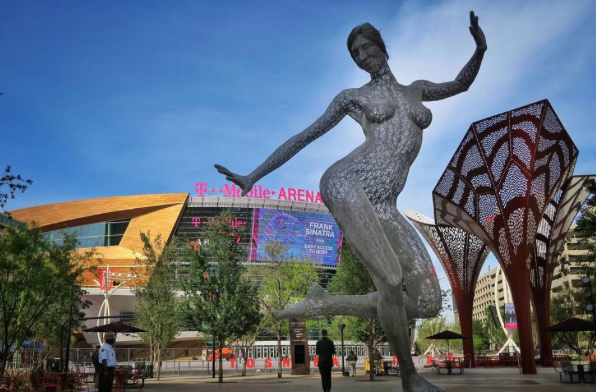 Strip's newest attraction has typical Vegas flair
With typical Vegas flair, MGM Resorts and AEG unveiled the Strip's newest attraction this week, but it's not a Cirque du Soleil show or a new casino hotel. It's a $345 million arena and pedestrian park located between New York New York and Monte Carlo resorts.
The 20,000-seat T-Mobile Arena (t-mobilearena.com), designed to host concerts and sporting events, is styled out with typical Vegas flair. An 18,000-square-foot nightclub called Hyde Lounge offers VIP excesses like bottle service, DJs and catbird views of both the arena action and the Strip.
The arena is linked to the Strip by the Park (theparkvegas.com), a pedestrian plaza that features 10-foot water walls, shade trees and 50-foot sculptures with LED lighting at night. Bars and restaurants such as Shake Shack, Sake Rok (a Japanese restaurant and club), SoCal's Bruxie (waffle sandwiches) and a beer garden overlook the pathways.
The complex is a joint project of MGM Resorts and AEG, the Los Angeles-based sports-and-entertainment conglomerate that also owns the L.A. Kings, the L.A. Galaxy MLS soccer team and ticket broker StubHub.
A reunited Guns N' Roses performed at the arena Friday, marking the first concert the group has played together in 23 years.
READ MORE: http://www.dallasnews.com/lifestyles/travel/us/20160415-strips-newest-attraction-has-typical-vegas-flair.ece