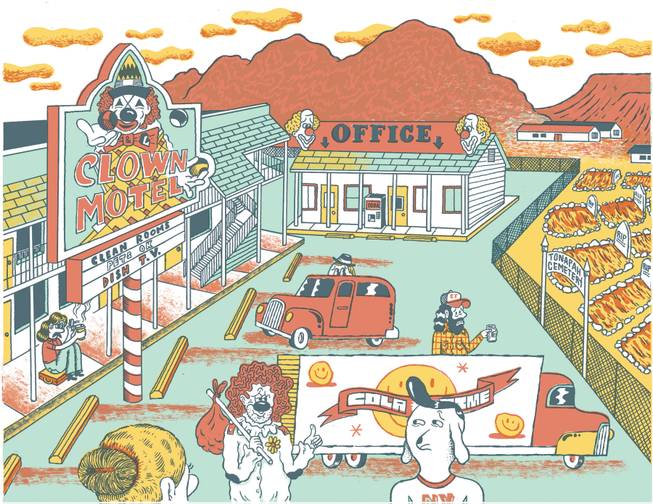 Somehow it works: Unusual business neighbors in Las Vegas
As wild as the Strip is with its attractions, street performers and blinking lights, the landscape gets even stranger as you venture away from Las Vegas Boulevard.
At just over 135 square miles in area with highly concentrated pockets of commerce, parts of Las Vegas simply don't have enough room for all the businesses that want to open. In other sections of the city, remnants of old Vegas flank developments shaping a new Vegas. That makes for some interesting combinations.
A church sits next to a bail bonds office, tattoo parlor and gay bar. A barbershop shares a roof with a basketball gym. And a shop that sells zombie-killing weapons helps keep a furniture store in operation.
Laughing to death: The Clown Motel and a cemetery
IF YOU GO
Clown Motel, 521 N. Main St., Tonopah
Just north of Las Vegas on the way to Reno is the Clown Motel. It's a place even more nightmare-inducing than the name suggests.
The small, blue building sits just south of U.S. Highway 95 next to practically nothing. Travelers are greeted by a sign depicting a clown riding a motorcycle. Inside the small motel are more than 600 clowns.
In the office, visitors can sit on a couch next to a 5-foot-tall, face-painted clown figure with a bright red nose and striped costume. Above it, hundreds of clown dolls rest on shelves. Every hotel room has multiple clown portraits hanging on the walls, so guests can enjoy the experience right up until they close their eyes for the night.
And that isn't the creepiest part.
The motel sits next to a cemetery where the bodies of miners killed in the Belmont Mine fire of 1911 were buried.
Leroy David, who opened the motel in 1990, chose the location because his father was one of those miners. David used the motel to store his collection of clown materials, back then about 200.
In 1995, David sold the business to Bob Perchetti, who kept the clown theme.
"It's completely out of place in a mining community like Tonopah," Perchetti said. "From Day One, (David) thought it would be a tourist attraction. Some people love clowns, and some think they are scary."
Aside from tripling the amount of clown stuff, renovating the rooms and upgrading the air conditioning, Perchetti has done little to change the motel. Business has been steady and picked up significantly after the Travel Channel stayed there for a four-day shoot for an upcoming reality show about the paranormal.
"We even talked with a movie producer about making a movie here," Perchetti said.
Despite running a motel overflowing with clowns built near a cemetery, Perchetti, 77, is adamant the building isn't haunted.
"People say there are ghosts in the rooms," he said. "But there have been no sightings in the 20 years I've been here."
READ MORE: http://lasvegassun.com/news/2016/feb/22/somehow-it-works-unusual-business-neighbors-in-las/