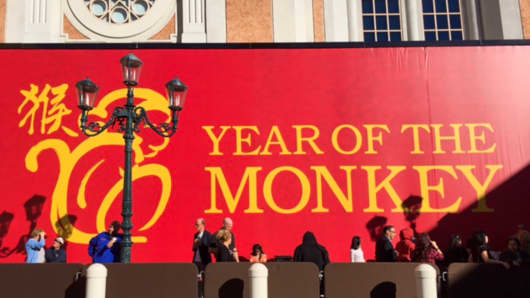 Vegas hoping for year of 'monkey' business
Las Vegas is in the red this week, and that's a good thing. Red is covering the strip from north to south. It is the color of joy and good luck in Chinese culture, and this week marks the beginning of the Chinese New Year. In this case, it's the "Year of the Monkey."
A town famous for monkey business is hoping fortune will shine on it. The Chinese New Year is the third or fourth most important event on the calendar for Las Vegas, behind the Super Bowl, the "domestic" New Year (Jan. 1), and possibly the Consumer Electronics Show.
"It is a big deal to the bottom line (with) the right guests, hopefully," said MGM Resorts President Bill Hornbuckle.
By "the right guests," he means high rollers. Traditionally, the game of choice for mainland Chinese tourists has been baccarat, but as the economy back home slowed, and as a government corruption crackdown drove gaming revenues in Macau down 35 percent, the ripple effects made it across the Pacific to Las Vegas.
Baccarat revenues in Nevada were down 14 percent in 2015 to $1.3 billion. Bill Lerner, principal at Union Gaming Securities, doesn't think we've seen a bottom yet. "I suspect we'll see some modest declines," Lerner said of this month. "We will continue to see declines, but I characterize it as less bad."
That's not to say Las Vegas is declining. Overall gaming revenues are growing a little, and the city had a record 42 million visitors in 2015. Low gas prices in California are fueling visits from its largest market, and Lerner said a lack of new room capacity has many resorts on weekends nearing 100 percent occupancy.
Hornbuckle said MGM Resorts' convention business remains strong, at least for now. A T-Mobile Arena it's building with AEG will open April 6, ushering in a new era of entertainment — and possibly bring in an NHL franchise.
READ MORE: http://www.cnbc.com/2016/02/09/vegas-hoping-for-year-of-monkey-business.html