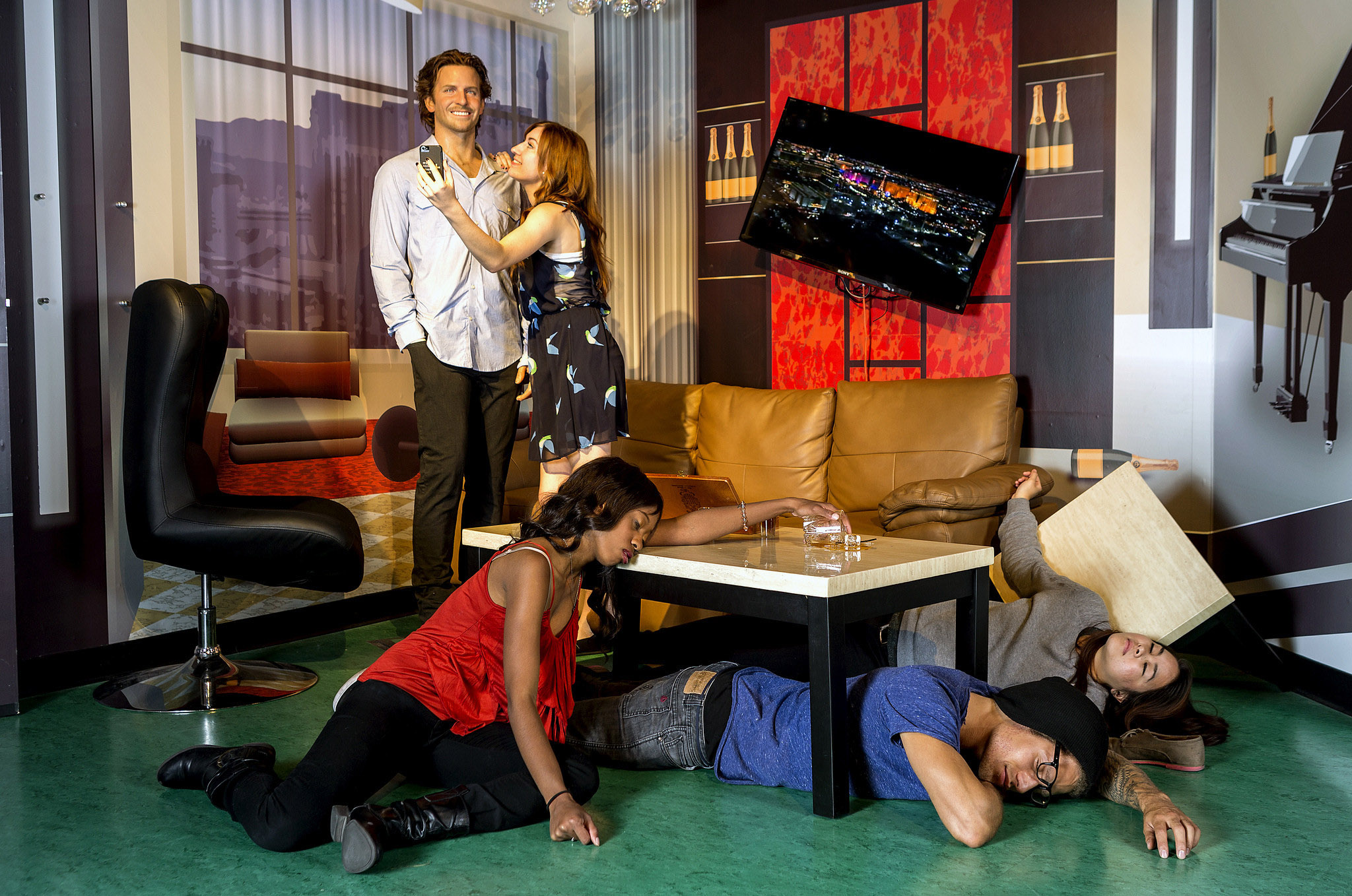 Vegas Must Dos for January 2016
Tuesday, December 29, 2015
Haley Caldwell
Ah, a new year is upon us and that means that we have a new chance to make questionable decisions… at least that's how we view this opportunity here in Vegas. Year after year, we throw the same parties, eat at our favorite restaurants and party at our go-to club. However, with each passing month, everything just gets bigger and better. Who can complain about that? This year, we have a lot to look forward to here in Sin City and because of that, we have narrowed down our top Must Do events of the month. That way, all you have to worry about this January is getting to Vegas and doing whatever it is that makes that little heart of yours pound out of your chest. Happy New Year!
Celebrate National hangover Day
Jan. 1, 2016
If you're starting off the New Year in Vegas with a pounding hangover, well, we are happy to know you celebrated the right way last night! Out of all the gimmick holidays that happen throughout the year, we must say that Jan. 1 is our favorite since it's National Hangover Day. Hell, if there is one thing besides partying that we know how to do here in Vegas, it's nurse a hangover.
Our first stop that we will recommend to you is a buffet. The best way to sop up all that booze (obviously to make room for more) is a buffet. We love the Wicked Spoon at The Cosmopolitan of Las Vegas, but any buffet that serves booze and food will do you justice.
However, if you're one of those youngsters who can still drink the night away and not be half dead the next day (or if you've already partaken in our hangover day suggestions) and you're looking for something to do in the afternoon, Madame Tussauds has a hilarious exhibit with all of the characters from "The Hangover." Complete with a wax statue of Zach Gallifianakis (we were so close to spelling that right on the first try) as Alan from "The Hangover." Posing alongside co-stars, Alan and Phil (the Bradley Cooper statue) while "pretending" to be hung over is the next best thing to trashing a hotel at Caesars – which you should never, ever do.
UFC 195: Robbie Lawler vs. Carlos Condit
Jan. 2, 2016
We like to keep to keep the peace here in Vegas… until the UFC comes to town. Throwing down in the UFC 195 showdown at the MGM Grand will be Robbie Lawler – a ruthless welterweight champ with a 26-10 record – against Carlos Condit who is the ex-interim champ with 30 wins over only eight losses. While Condit is going for Lawler's title, there is a lot at stake for the two fighters. The match is predicted by the Los Angeles Times to be "as subtle as a punch in the face" and "a stand-up slugfest," and hell, if that doesn't just scream entertainment, we don't know what does.
Mike Epps at the Orleans
Jan. 2, 2016
Laugh your way into 2016 with famed comedian Mike Epps who will be performing a two-night engagement at the Orleans. Most popularly known for playing Day-Day Jones in "Next Friday," and "Friday After Next" and an appearance in "The Hangover" as Black Doug, Epps is not your run-of-the-miss comedian. Hailing from Indiana, Epps made his way onto the comedy scene in the early '90s and has since amassed a massive fan base for his unique style of stand-up comedy. With various other film, music and television credits to his name you are not going to want to miss joining this comic for two nights of his hilarious anecdotes.
Shop 'Til You Drop
A new year means new sales and the best place to be for shopping in Las Vegas (or in our opinion, all of America) is at Fashion Show Mall on the Strip. With eight department stores, 250 signature stores and 25 dining options, Fashion Show really does have it all. In addition to shopping all the levels and scoping out the post-holiday sales, shoppers just may have the chance to see the central runway in action with some of the mall's hottest collections on display. If you're looking to burn some time or extra cash, Fashion Show has the power of keeping you occupied for hours… trust us.
CES: Jan. 6-9, 2015
Calling all tech lovers! If you only make it to Sin City once this year, now is the time you want to do it — for the Consumer Technology Association convention simply known as CES. Last year, more than 170,000 business consumer technology enthusiasts attended the convention and set their goods up for display across 2.2 million net square feet of exhibit space. In addition to hundreds of vendor booths, the three-day tech fest will feature various press events, conferences and demonstrations unveiling the latest tech trends and the newest, hottest gadgets and gizmos on the market for the coming year. Don't miss your chance to mingle with thousands of senior-level executives, government professionals, startup companies, top retailers and so much more when CES swarms Las Vegas for what is expected to be their largest convention to date. Happy nerding!
Frozen on Ice
Jan. 6 – 11, 2016
Yes, "Frozen" in the desert is a bit ironic but we certainly are not complaining. Bringing Elsa, Anna and all of the other beloved characters from the Disney hit, Frozen on Ice will tell the tale of the family movie by way of an ice skating production. Hosted by Mickey Mouse and Minnie Mouse at the Thomas and Mack center January 6 – 11, audiences will sing and dance along to inspiring songs, including "Let It Go." Join royal sisters Elsa and Anna, the hilarious snowman Olaf, Kristoff, his loyal reindeer Sven and the mystical trolls as they journey to discover that true love is ultimately the most magical power of all!
Mecum Auctions MidAmerica Las Vegas Motorcycle Auction
Jan. 7 – 9, 2016
Motorcycle lovers, this one is for you. Set to take over the South Point from Jan. 7 – 9, the Mecum Auctions MidAmerica Las Vegas Motorcycle Auction will be celebrating its 25th anniversary with the most anticipated motorcycle auction of the year. Open to buyers, sellers and spectators, the three-day event will boast more than 700 antique collector motorcycles spanning approximately 110 years of motorcycle production cross the auction block. Drawing visitors from across the nation, the auction will feature a huge variety of motorcycles, including a 2014 Indian Chief with 200,000 hand-laid Swarovski crystals.
NFL Playoffs
Begin on Jan. 8, 2016
Ooohh yeah. Football season is in full swing and, as always, Vegas is the place to be for the NFL playoffs. Whether or not your fantasy team is winning, here in Vegas, all bets are a go at the sports books around town. If you're a local, you probably already have your game plan for making your game day bets at a Station Casino or your favorite sports book on the Strip but if you're visiting, you have a whole new world to experience.
When betting in a sports book, make sure you know what bets you're going to make (check out our sports betting information) in order to speed up the process and have your money ready. Some of our favorite sports books include SuperBook at Westgate Las Vegas, Lagasse's Stadium at the Palazzo and the race and sports book at Caesars Palace, but you really can't strike out when choosing your sports book… it's the bet that counts! Mark your calendar for the following NFL Playoff games:
Wildcard Round: Jan. 8-9
Divisional Round: Jan. 15 -16
Conference Championships: Jan. 23
Pro Bowl: Jan. 31

Treat Yourself

Not only is Las Vegas home to the world's best collection of entertainment, we are also lucky to be surrounded by some of the world's best spas. In honor of National Bubble Bath Day, which is Jan. 8, we couldn't help but include a trip or two to the spa on our Must Do list for this month. Some of our most favorite places to get pampered including the spa at Aria in City Center, the Spa at the Mandarin Oriental and the Spa at the Trump Las Vegas. Of course, there are dozens of other spas to choose from but the three listed above offer some of our favorite sumptuous treatments from facials to massages that leave us feeling like we didn't just eat our body weight at the buffet last night.

Shawn Wayans at the South Point
Jan. 8 – 10, 2016

Get ready to get to laughing. Famed actor and comedian Shawn Wayans is set to take the Vegas stage at the South Point for a three-show engagement Jan. 8 – 10. Best known for his roles in silver screen hits including "White Chicks," "Scary Movie" and "Scary Movie 2," Wayans will have guests laughing throughout the night with his hilarious stand-up comedy routine and tales from his experience working in Hollywood. Since launching his career in comedy at an early age, Wayans has since become a comedic force and a household name in comedy across the nation. He's now performing a limited time engagement in Vegas that you will not want to miss.

The World Financial Group Continental Cup of Curling
Jan. 14-17, 2016

Excuse us? You didn't know that there was a four-day curling extravaganza that took place in Sin City? OK, well you're off the hook because neither did we until we dug a little deeper into this pretty awesome sporting event. First, what would Vegas be if didn't cover all entertainment facets? Second, it turns out that this curling tournament is a pretty big deal.

Gathering at The Orleans Arena for the second time in the tournament's history, the WFG will attract more than 51,000 fans to Las Vegas over a four-day period. During this sporting extravaganza, Team North America will take on Team World in a variety of curling disciplines, including traditional team games, mixed doubles and skins… all while we are doing 12-ounce curls of our own from the comfort of the fan stands. Best of all, six lucky Southern Nevada residents can try their hand at the deceptively difficult sport during "The Orleans Curl for Club Seats" contest. The winner will score a pair of Club Seats to every publicly-ticketed event at the Orleans Arena for the remainder of 2016. Yeah, we'll see you on the ice.

Dr. Martin Luther King, Jr. holiday: Jan. 18, 2016

Dr. Martin Luther King Jr. made our world a better place and in celebration of this iconic man's birthday, we are all raising our glasses to one of our country's most influential leaders. King would have turned 87 years old this year. Celebrate his birthday on Monday, Jan. 18 with the annual Rev. Dr. Martin Luther King Jr. parade in downtown Las Vegas. The parade starts at Fourth Street and Gass Avenue and ends on Fourth Street and Ogden Avenue. The specific start time will be announced closer to the event date.

AVN Adult Entertainment Expo
Jan. 20 – 23, 2016

Oh, don't even act like you're shocked. This is Las Vegas and when we say that we have an expo for everything, we mean everything. The AVN Adult Entertainment Expo also referred to in short as AEE, is an adult entertainment convention and trade show for all things prefaced with viewer discretion. Dubbed as the largest pornography expo in the United States with a record of more than 30,000 attendees and several hundred exhibiting companies, you can bet that the wild meter in Vegas gets pushed to the max during this convention. Much more than a convention (with some of the most exhilarating party bags you will ever take home), there is also a massive awards show that is a highlight of the event. Honoring adult movie stars for their handy work (so to speak) in various movies, guests have the chance to get autographs from their favorite adult stars and attend some parties crazy enough to redden the cheeks of Lady Luck herself.

READ MORE: https://blog.vegas.com/featured-articles/vegas-must-dos-for-january-2016-63102/