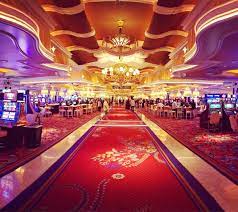 WYNN TARGETS MILLENNIAL GAMBLERS WITH ENCORE PLAYER'S CLUB
Surrender is about to get a nightlife neighbor when Encore Player's Club opens this month.
Tue, Dec 1, 2015 (12:55 p.m.)
Imagine you're chilling with a few friends and 23 HD televisions with 56-inch screens, at interactive tables surrounded by roulette, craps, blackjack and slots. You might grab your phone to snap a pic of the DJ and make some mobile sports bets while watching multiple games. Even if your teams lose, you can drown your sorrows in a specialty cocktail, snacks from a world-class kitchen and a round of billiards on a white lacquer table straight from the Manhattan penthouse of Steve Wynn.
No, you are not Steve Wynn. But Wynn Las Vegas is ushering in "a new era in casino gaming" with the December 19 launch of Encore Player's Club. Across from Surrender, Andrea's restaurant and VDKA bar on Encore's casino floor, the luxury lounge will be just over 5,000 square feet and designed for millennials.
In a news release this morning, Wynn Las Vegas VP of Operations Sean Christie asserted: "Gaming environments have basically been formulaic on the Strip for decades. Wynn Las Vegas will be the first to offer a new experience in gaming and entertainment on the casino floor by creating a distinctive social space to gamble with friends, watch the game or hang out before hitting the club."
Christie said Wynn Las Vegas anticipates millennials will be drawn to the experience, which makes sense, given their attachment to mobile devices and aptness to enjoy sitting at Suzo Happ InteractivePro tables that allow for four simultaneous user screens for TV, video and interactive content augmented with eight high-fidelity speakers and plenty of headphone jacks. There's also a shuffleboard table, bringing low-tech charm to the high-tech room. And days when there are major sporting events, a special menu will be available from Pan-Asian destination Wazuzu.
READ MORE: http://lasvegasweekly.com/nightlife/2015/dec/01/wynn-las-vegas-millennials-encore-players-club/#.Vl4tVulwcWQ.facebook