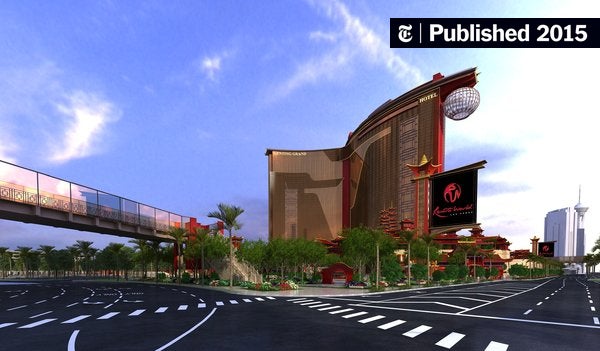 In Las Vegas, a Lucky Streak for Developers
It wasn't too long ago that the Las Vegas Strip resembled a red-hot craps table right after the dice came up seven, sweeping all the chips to the house. When the financial crisis shut off capital, billions of dollars wagered on casino resort and high-rise condominium developments vanished from the Strip.
But investors are once again placing chips on a 4.2-mile stretch of Las Vegas Boulevard South, despite remaining scars like the steel skeleton of the halted St. Regis Residences, shrouded in cloth between the Venetian and Palazzo resorts, and the nearly complete but long-vacant Fontainebleau condo project a few blocks to the north.Developers are plowing capital into new casinos, a 20,000-seat arena, convention space, property renovations and shopping and entertainment districts. MGM Resorts International, an operator of 10 major resorts in Las Vegas, is aiming to unlock value by spinning off 10 of its properties into a real estate investment trust, including the Mirage, Luxor and Mandalay Bay resorts and four other assets on the Strip.
Land on or near the Strip controlled by lenders and hedge funds is attracting attention, said Michael Parks, first vice president with CBRE's Global Gaming Group in Las Vegas. A 60-acre parcel that sold for $10 million an acre for an ambitious but ill-fated mixed-use project known as Las Ramblas could fetch more than $3 million an acre today, up from its value of $1 million an acre a few years ago, he said.
"There's a renewed interest in Las Vegas as a safe place to make an investment," Mr. Parks said. "But I think capital sources are still being cautious in terms of what projects they'll lend money to."
Similarly, high-rise condo sales have rebounded to the point that some "mothballed" projects are about to come to market, said Bob Hamrick, chief executive of Coldwell Banker Premier Realty in Las Vegas. That is partly because of the ability of bulk buyers to turn a profit by selling units at a steep discount to their original price, he added.
READ MORE: http://www.nytimes.com/2015/11/18/realestate/commercial/in-las-vegas-a-lucky-streak-for-developers.html?smid=tw-share&referer=https:/t.co/f8KVrCNmzJ&_r=0